AUTOMATIC TARPING MACHINE (ATM)
The Tarpomatic system was designed for landfill solutions, but can be custom fabricated to fit any purpose.
Our Automatic Tarping Machine (ATM) is a patented self-contained unit that attaches to your heavy equipment to unroll and retrieve different types of fabric panels.
Email Us
Each ATM is equipped with adjustable brackets that can be lifted by the blade of your dozer or trash compactor, offering quick and easy attachment and removal from the equipment.
The ATM uses a hydraulic drive motor and engaging system to unwind and rewind the tarp spool with variable speed control. Each machine is powered by a 26 1/2 Horse Power Caterpillar Tier 4 Diesel Engine. Unlike our competitors, you can easily disconnect and reconnect spools, using a single ATM to link a series of tarps together to cover or uncover your landfill's working face.
Your equipment operator has complete control of the ATM's engine, height of the spool, and forward or reverse rolling through a controller unit placed in the cab, or via wireless remote. Using the equipment's own capabilities, your operator also has control over the ATM's height and tilt for even tracking when winding or unwinding a tarp over uneven terrain.
Our system is fits custom sizes, but mostly 20 ft, 30 ft, 40 ft, 50 ft wide panels of various lengths, and can be adapted to a wide range of your heavy equipment. Our patented Cable Keeper locks the crossing cables to the outside pocket to keep the tarp at the desired width. Our specialized Tuff Tarps, utilize a heavy woven, coated, and fire-resistant polyethylene fabric.
If smell is an issue, our ATM has an additional Deodorizing System that utilizes a mounted spray tank, along with mounted nozzles along the arms of the machine that will spray on demand from the comfort of the cab of your dozer or compactor. There are a variety of scents that can be utilized.
Tarpomatic Introduces Fourth Generation Daily Cover Machine
Tarpomatic has listened to their customers and made several improvements to its already top of the line tarping machine designed for deployment and retrieval of alternate daily cover tarps over the active working face of landfills. The driving factor behind most of these changes is worker safety. While their machine was invented in 1994 to keep workers away from the workface while deploying tarps, operators still needed minimal help on the ground. The current improvements give the operator total control of his Tarpomatic from inside the equipment cab. They have added hydraulic top spool locking jaws that are controlled by their dedicated remote transmitter. This spool lock is a key component in changing multiple tarp spools rapidly. Also in aiding tarp spool changes, they have added a camera-assisted alignment system, with monitor, so the operator can see the engaging and disengaging of the drive system and spool top locks. Their 26 ½ horsepower, Caterpillar (Kubota on request) three cylinder, tier four diesel engine, is now started by a push of a button from their handheld, weatherproof, resilient to impact and shock remote transmitter. Additions of a drive motor debris shield to keep soil or trash from entering drive arm pan area and added protection for the drive motor slide guide rails, so debris doesn't impede its movement also aid to the life of the machine.
Add on options include hydraulic adjusted lifting brackets (which lifts the entire Tarpomatic up to twenty four inches, in addition to the dozer/compactor blade, while in use), a deodorizer system, which is mounted on the frame with durable spray nozzles attached to the full width of the tarp machine for complete coverage, drive arm hood cover, as well as a total engine enclosure to keep elements away from the power plant.
Tarpomatic is still a leader in the industry, when it comes to alternate daily cover. Its unprecedented durable design makes it a perfect fit for rugged, daily use in any landfill environment and have proven the test of time and extreme conditions for twenty seven years. Machines are still in use that have been in service since the late 1990's and early 2000's. Adjustable brackets make it easy to fit any dozer or compactor blade. Hydraulics are used to maneuver the frames position, as well as control the deployment spool. Each tarp spool has the capacity to hold up to 300 linear feet of weighted tarps that can vary in widths of 20', 30', 40', or 50'. Because they employ a removable arbor system, only one machine is needed for even the largest of landfills. Multiple spools, loaded with tarps can be deployed in minutes. Their water resistant and flame resistant polyethylene tarps are weighted with chain in pockets along each side and cable in each end and every 11' throughout its body of the tarp. The crossing cables are attached to each pocket end, using our patented Cable Keeper system, to keep the tarp at its desired width. They offer a deodorizer system which is mounted on the frame with durable spray nozzles mounted on the full width of the tarp for complete coverage.
Tarpomatic now offers a lease to own option that will fit into anyone's budget.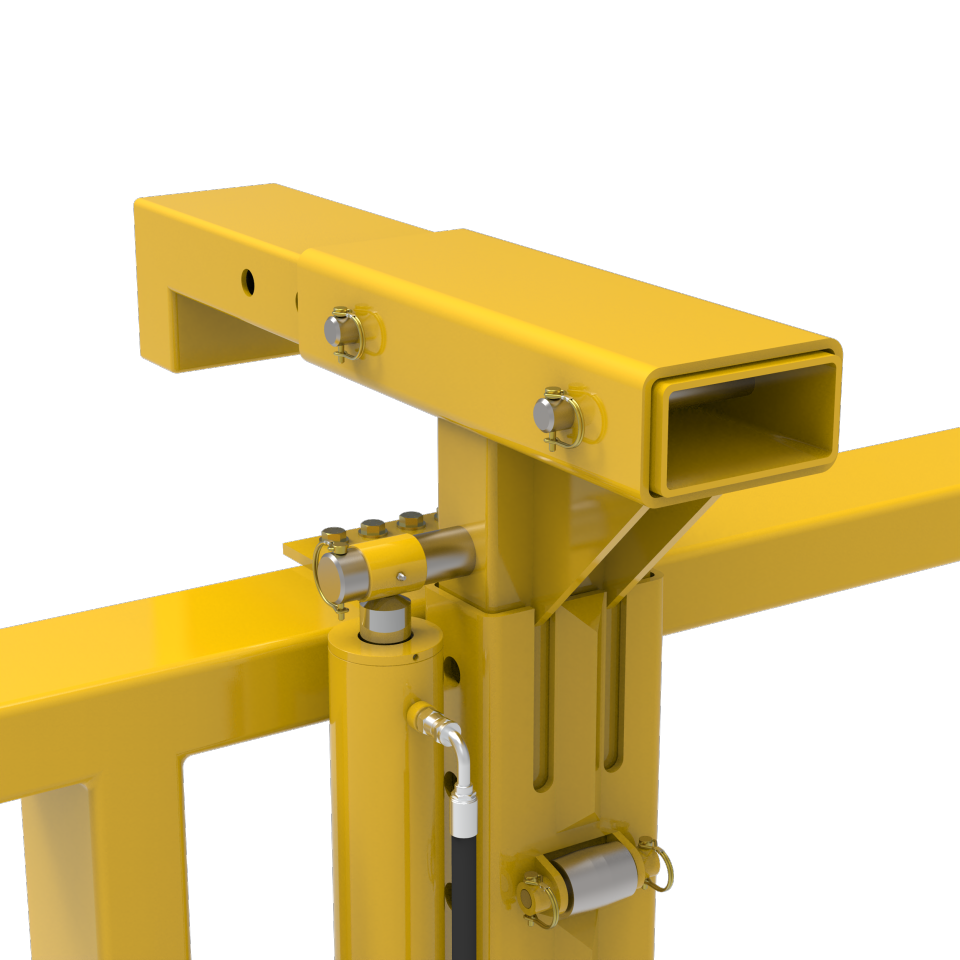 REDUCE
Landfill Operation Costs
INCREASE
Revenue With Automation
EXTEND
Tarp Life by Automatic Rolling